Event of the Year 2022 - Our 15th Year Celebration Mega Offer for You

Learn Five Topics in One Exceptional Event To Expand your career! (Five USA Trainings with Resilience Program in 3 Days)
On June 3,4 & 5 @ Dubai & May 27,28 & 29 @ Abu Dhabi and June 19,20 & 21 @ Cochin.
At one of its kind Al Reha Beach Hotel Seminar hall, Ground floor, Abu Dhabi. And in June at Hotel Le Meridian, Cochin. (Venue will be changed to Abudhabi City/Reem area and will inform the delegates)
CONGRATULATIONS UAE FOR "UAE ranked 25th Happiest Country in the World"
On the 45th National Day Celebration, on the National Agenda leading to the UAE Vision 2021, The President, His Highness Shaikh Khalifa Bin Zayed Al Nahyan, has declared: "The Government has adopted and approved national policies and strategies for innovation, creativity, excellence, reading, research and development, the future, housing, women and youth empowerment and 'Happiness'.

In Actualizing this Vision, we at DNA was determined to contribute what we could for the employees and individuals. Our Happiness Program included and supported needed skills and leadership towards the journey to this Vision,in and through DNA Trainings,WITH FIVE MOST VALUED OF OUR TRAININGS INCORPORATED WITH THE "HAPPINESS Training".We are now happy to announce our Resilience Program for human resilience and shaping the future for individuals and businesses as an effort to regain drive and efficiency during these difficult times - DNA 2022
ABUDHABI-THE GARDEN CITY IN THE DESERT.
NEW TRAINING OFFERED FOR A NEW WORK CULTURE: POSITIVE, PRODUCTIVE AND CREATIVE

While learning the powerful concepts of Leading with Emotional, Critical & Creative Intelligence, Creating Engagement and Happiness Through One's work and Innovation through design thinking, you will be experiencing the unique "Heart & Mind Learning" methodology for designing and delivering great training.
ALL DESIGNED,CUSTOMIZED AND DELIVERED USING THE LICENSED USA PROGRAMS. OUR COURSES ACCREDITED BY MIDDLE EAST UNIVERSITY
Register for our only "FIVE IN ONE Event" - DNA 2022-this year: READ entire page and register.
---
A three day extraordinary learning event, with optional free feedback, covering:
1. SHAPING THE FUTURE - INDIVIDUALS & BUSINESSES (PERFORMANCE EXCELLENCE through INNOVATION & DESIGN THINKING)


2. THE NEW LEADER - LEADING WITH INTELLIGENCE: Emotional - Critical & Creative (Leadership Development Program with Leader Shifts & Relation Shifts)


3. RESILIENCE: For Post Pandemic Strength, Development and Happy Productive Work Systems - Reinventing Strategies for CHANGE MANAGEMENT (9 Skills of RESILIENCE: Developing)


PLUS: The Heart & Mind Learning Methodology for training design and facilitation, from USA.
And this extraordinary learning event is followed by optional FREE feedback @ any time. Get our NEWSLETTERS to stay in touch with news of these events. You will get training inside this Event, how to be transformed for becoming the change that you want to bring in your ife & work.
Learn to have Great Training: What is it Like? What Do Participants Say About It? Experience it at DNA 2022.

What is great training? Here is how we at DNA answer this question:
It is an experience where participants are engaged in transformational learning that produces change in thinking and behaviour. The learning is so profound and exciting that participants don't want it to end. The impact is personal and intense. The entire experience is one that participants will remember for a long time. At the end of the training, participants write things like the following actual comments:
"Only time will truly tell the enormous impact that you have had on my life", and "Listening to you all and learning from you has changed the way I see the world, and helped me build a vision far greater than I'd ever imagined." MR.Rajan, Managing Director, Power group of companies, Abudhabi, Ajman, Dubai, and India.
'You were all so impressive and inspiring, and the materials so interesting. Thank you for sharing your spirits so freely!Not only High Dr.R.Muricken,but Exceptional,Superior ,and highly authentic and TRANSFORMING your discourses'–Mr. Premnath Sundaramoorthy , B.E ( E.E.E ) , M.B.A ( H.R ), Project Engineer - National Contracting Company ( NCC ) , United Arab Emirates.
"The 'Leadership And Management with EQ skills ' program really brought out the leadership qualities and skills in each of us, to be the right manager and to be self managed. Congratulations DNA and Dr.Rose Muricken ;go up again". Mr. Minazudin Minzhi, former Country Manager, National Bank of Oman, AD.
But how can you create such training? You can do it by applying a number of principles put together in a methodology we call "Heart & Mind Learning". People who attend our events experience this methodology first hand as they learn vital skills like emotional intelligence, diversity and inclusion, and cross cultural competency. The Heart & Mind Learning methodology involves twenty Insights, some of which are:
What people focus on becomes their reality: We invite people to shift their focus from the problems they want to fix to the bigger picture of the exciting future they want to create for themselves and the organization.


Taking the best of the past to the future: The most confident way for people to move to the future is to carry forward the best parts of the past. We help people identify what worked best for them and take it forward to create larger accomplishments.


Change starts with the individual: We invite participants to adopt Gandhi's principle, "We must become the change we want to see in the world." We believe that people are capable of change once they choose it themselves. Our work helps participants access the source of motivation for change.


Holding on the side of hope: We hold the belief, supported by research, that the state of being hopeful is one of the key marks of emotional intelligence and effective performance. Our work creates optimism and positive expectations for participants, and enables them to create the same for their clients.


Commitment to action is self-generated: One of our key "Insights" is that everybody wants to do good work that brings them self-satisfaction and the recognition and appreciation of others. Participants learn how to build upon this to inspire a desire for action and achievement in themselves and others. Because this desire is self-generated, it produces much better results than external incentives and rewards.


Heart & Mind Learning delivers many more equally powerful insights, twenty in all, that work to create real change in the way people learn, think, and act. (courtesy: Mr. Francois Basili, USA)

WHAT YOU WILL GET BY ATTENDING :
Three days of exciting learning and personal discovery experiences that dramatically impact your emotional intelligence, creating employee engagement starting with you & your staff and proper communication and listening skills.
You will learn, teach, and participate in our Heart & Mind Learning methodology and receive its application to all our training program..
You will learn our powerful Applying Emotional Intelligence at Work workshop and receive its Participant Workbook.
You will learn our creating employee engagement workshop and receive its Participant Workbook.
You will learn our creativity and innovation workshop and receive its participant workbook with pracital knowledge of proper communication & listening skills.
You will make lasting relationships with colleagues who share common interests in a way different from any traditional conference. You will have the cultural competency and diversity skills to be included and accept others in work groups and specially orinted project teams.
You will discover, or rediscover, the cultural and entertainment wonders of Arab world especially, Abudhabi the capital of the UAE. And a chance to experience the Hospitality of the Arab world along with the 'three in one 'Participant Master Workbook' and to explore possibilities of job market.

Using Heart & Mind Learning to Experience Leadership with Critical, Creative and Emotional Intelligance, Employee Engagement for Creating Happiness, and Innovation through Design Thinking .

While you are learning the powerful concepts of emotional intelligence, creating engagement and creativity and innovation, with inclusion and cultural compentcy, you will also be experiencing the unique "heart & Mind learning" methodology.
It is a methodology that ensures that your event enjoys special features that turn ordinary training sessions into great learning experiences.
Heart and Mind Learning is based on the following:

If you don't arouse the heart, you can't engage the mind.
If you don't offer inspiration, you will waste the information.
People don't care how much you know, until they know how much you care.

What Participants Said About Our Training Events Using Heart & Mind Learning:

"I definitely felt as though I was taking part in something very special during these days. I left the training inspired and energized, and looking forward to using the tools. Thank you for making the training so impactful for me. A Section Manager, Ministry Of Social Affairs, UAE.

"I have weaved some of the concepts (of the training) into what I am doing here at the Ministry-At the special care centre. Dr. Rose Muricken,Ph.D.(USA) leads her 'Applying Emotional Intelligence' class with a highly effective mixture of kindness, compassion and expertise. SHE creates and nurtures a cooperative and cohesive classroom environment, where participants are motivated to use their collective synergy to find solutions to their unique challenges."

---

THE VENUE OF DNA 2022: AL REHA BEACH HOTEL, ABUDHABI.

Who Should Attend DNA 2022?

Ambitious professionals who want to learn about emotional intelligence, diversity, inclusion, and cultural competency and to have self and employee engagement in a creative and innovative action plan.
Trainers who want to take their training design and facilitation to the next level by learning the unique Heart & Mind Learning methodology, along with engagement principles.
Managers and leaders who want to lead their teams with emotional intelligence, diversity, inclusion, and cultural competency, and to be creative and innvative in every steps.
Professionals who want to build or expand a training business.
HR professionals interested in building a culture of emotional intelligence, diversity and inclusion, and cross cultural understanding and competency at work, in a creative and innovative background to engage the employee upto the brim.
Coaches, consultants, and educators looking for powerful transformational concepts and innovative ways to create personal and organizational change through EQ based employee engagement.

While emotional intelligence, creating engagement, engagement with inclusion and creativity concepts are by their very nature subjects that stir participants' feelings, our learning experience balances the emotional side with thought-provoking concepts and solid practical applications. That's why our events have attracted and engaged diverse participants representing those with right and left brain preferences, the high touch and the high tech sides of the training business, and the MBA and Psychology sides of academia.

Our past participants included the a Manager, special care centre Dubai; Head of Training at Ministry of Social Affairs, UAE; Training manager National Bank Of Oman, Muscat, Manager consonni, Abudhabi, CEO and MD, of Arid land Development co, Abu dhabi, musafa,shaha ma , Dubai, &Al Ain,many university professors including an MBA program director; Teachers of various schools in Abudhabi, A Professor doctor from Mannuthy Agricultural Uty, Trichur, executive directors of several non-profit organizations; independent consultants and coaches from around the world; training professionals from various registered organizations; ceo and MDof CDT CO, Abudhabi, HR consultant, Lindenburg, Eng.GM from Thawam Agri.,VM Gulf,NCC CO LTD,Director,CME For DOCTORS ,HAAD, Senior Pharmacist, SKMC,(DNA2010) and MD,DITITECH,DUBAI, and others. Principal, Mount Carmel Senior Secondary School, Kottayam, Principal St. Joseph's College for Women Aleppey, Rev. DR. SR. Psychologist from Cochin, Dr. & Senior professor, dept of Chemistry, Alphonsa College Pala & professors, dept of Nutrition studies, senior Administrator, BVM Medical Trust, Iddukki, Principal, Bharath matha College Neezhoor, MSc. Nursing students, Nursing Research person from Bangalore, Two MBBS students-one from kottayam Medical College & Other from Bangaloru, Professor from Govt. College, Madappally, Calicut, A Teacher from Trichur, A Counselor from Trivandrum & many others.

DNA 2022: You will experience transformational concepts that move people and create change - IN FACT YOU ARE THE CHANGE.

You will experience the event's timely theme: "You are the change" as the United Arab Emirates and the world embark on a new era, what better time to learn and live the powerful experience of change in both its personal and business manifestations. You will realize that it is possible to "Be the change"; today itself.
From the moment of your arrival to the event, you will get involved in the exhilarating process of engagement and change. You will not sit back and get lectured to as a passive attendee. You will experience the Heart & Mind Learning in practice. You will be put on a discovery journey where you will be engaged in continuous activities, discussion, exploration, and transformation.
You will experience the core competencies of "Applying Emotional Intelligence at Work" and its powerful impact on the corporate culture. You will receive the Emotional Intelligence Participant Workbook.
You will experience the verious aspects of employee engagement and revolutionize yourself by starting the engagement process then & there as a vital force for creating a work culture of respect, understanding, creativity, and collaboration. We will cover one benefit of engagement not usually covered by other programs, which is creativity at work. You will experience how employee engagment fosters creativity and how this helps people achieve breakthrough results. You will receive the creating employee engagement licensed participant workbook.
You will experience the core competencies of "Creativity and Innovation" & "Inclusion with Cultural Competncy". You will receive the creativity and innovation participant workbook.

DNA 2022 will deliver experiences, concepts and applications with an action plan on the five vital topics given above.

The EQ interview with Dr. Rose Muricken,our main Facilitator,and the career counseling is included in the package.

"The EQ Interview was really a change initiative, which created the necessary ground for us to engage fully, during the training sessions, which indeed was a different learning experience in all our lives. I do congratulate you, Dr. Rose Muricken for your deep knowledge in many subjects like Administration, Training, Management, Facilitation, consultation, Human Resources, Education, and even Biochemistry. It appears to me that sky is the limit, for you and now even for us-- your participants"-Mr. Clitson Joseph, CEO&MD, CDT, Abu dhabi.

"It (DNA-2010@Al Reha), is of high caliber and AMAZINGLY inspirational, informative, illuminative and highly helpful in my personal and professional life. I have already recommended this special event to all my friends. Thanks from my heart, Dr.Rose Muricken".---Mr.J.N. Nair,LLB,CA(USA), Accounts manager,VMGULFinternational,Abudhabi.

"It (DNA-2011@Zuri), is of high potential and quite natural for you to bring the results as we have experienced in a higher level, regarding these global training topics. Thank you, Dr. Rose Muricken" --- Dr. Lucy Mathew Prof. Department of Chemistry Alphonsa college pala.

"It (DNA 2012) really made a change in our attitude and mindset as well in our achievement strategies" - Mr. Fahim Pudussery, MBA (USA), Managing Partner, Apex Group of Companies

"Simply amazing the entire Event (DNA 2013) Dr. Rose, Congratulations", Engineer Nichel John, Managing Partner, Ambush Group of Companies.

"The very practical ways of applying EQ in a business system to make break through results in a short period through mind and brain transformations within a day is happned today with us and your continnous eleven hours training is also amazing, Congratulations Dr. Rose Muricken" (DNA 2014) - Mr. Vaithia Nathan MD Actinum Group of Companies, UAE & India.

"Amazing the skills that we impaired just in two days,thank you dr.rose,for this life changing real training. Eng.HADI,A.K.SUGAR LLC,(Al Ghurair Group, Dubai 2015)"

"Now i could get along with any irritating patient, as Dr. Rose revealed me how i can impair hope and happiness in a peaceful way to the sick". A Nursing Educator, Dubai Health Authority - 2015 October"

First Day - 7.40 AM to 5:00 PM: The New Leader: Leading with Intelligence- Creative, Critical and Emotional

You will :

Experience the dramatic session opening activities that together deliver a jolt of joy, surprise, and inspiration. In the first hour of attending you will realize how different this event is and you will start your exciting journey toward discovery, professional learning, and personal transformation,by IOL
Learn why today's leaders need to develop critical emotional intelligence (EQ) competencies.
Understand the nature of emotional intelligence and how the human brain works.

Learn the four dimensions of EQ and the key EQ competencies and skills associated with them.
Develop Self Awareness and understand its impact on attitude and personality.
Develop and apply Self Control and Management skills in ways that boost leadership and accomplishment.

First Day Afternoon - 1:30 to 5PM: Continue Leading with Intelligance, Leader Shifts & Relation Shifts

You will :

Develop and apply Social Awareness skills in ways that build the capacity for empathy and the ability to understand and relate to others.
Develop and apply Relationship Management skills in ways that enhance the ability to exercise leadership, work collaboratively, resolve conflict, and achieve dramatic results at work.
Choose from a battery of practical emotional intelligence techniques to use in a variety of work-related applications including communication, leadership, coaching, working with others, creativity and conflict resolution.
Develop an action plan for self to improve emotional intelligence applications in daily life.

Second Day - 7:40 AM to 5:00 P M: RESILIENCE: For Post Pandemic Strength, Development and Happy Productive Work Systems - Reinventing Strategies for CHANGE MANAGEMENT (9 Skills of RESILIENCE: Developing)

Implementing the 9 skills of human Resilience Program to reinforce resilience and bring peace and harmony. The 9 Skills are

1. Culture Skills
2. Innovation
3. Communication
4. Listening
5. Emotional Intelligence
6. Moral Courage
7. Change Management
8. Creativity
9. Goodness & Happiness

Resilience training can be a powerful agent for changing the organizational culture and creating a positive, productive and respectful workplace. We help participants see and work with resilience and goodness as a "state of mind" and "a way of doing business, to attain flow state in workplace." We cover all key aspects of above 9 skills.

Resilience Program Initiation based on Culture, Communication, Listening and Innovation :

In our simulation, you will "experience", not just hear about, what creates and what impedes, true resilience at work and in life. Emotional intelligence on the part of management and staff alike makes engagement possible and sustainable.

Employee Engagement Process:

The Process will be implemented by needed training through excercises, role plays, simulations and assessments after identifying the required need for change in the system.

Implementing Employee Engagement in all Realms with the help of emotionally intelligent managers.

We use methods of accepted ways to initiate, propagate and complete the process of developing the 9 skills of resilience by using the free willingness of the participant to dedicate for a better cause while actualizing the inner call of perfection in doing anything, let alone 'the work'. Thus attaining the 'flow' state of doing a skilled work, happiness and moral courage.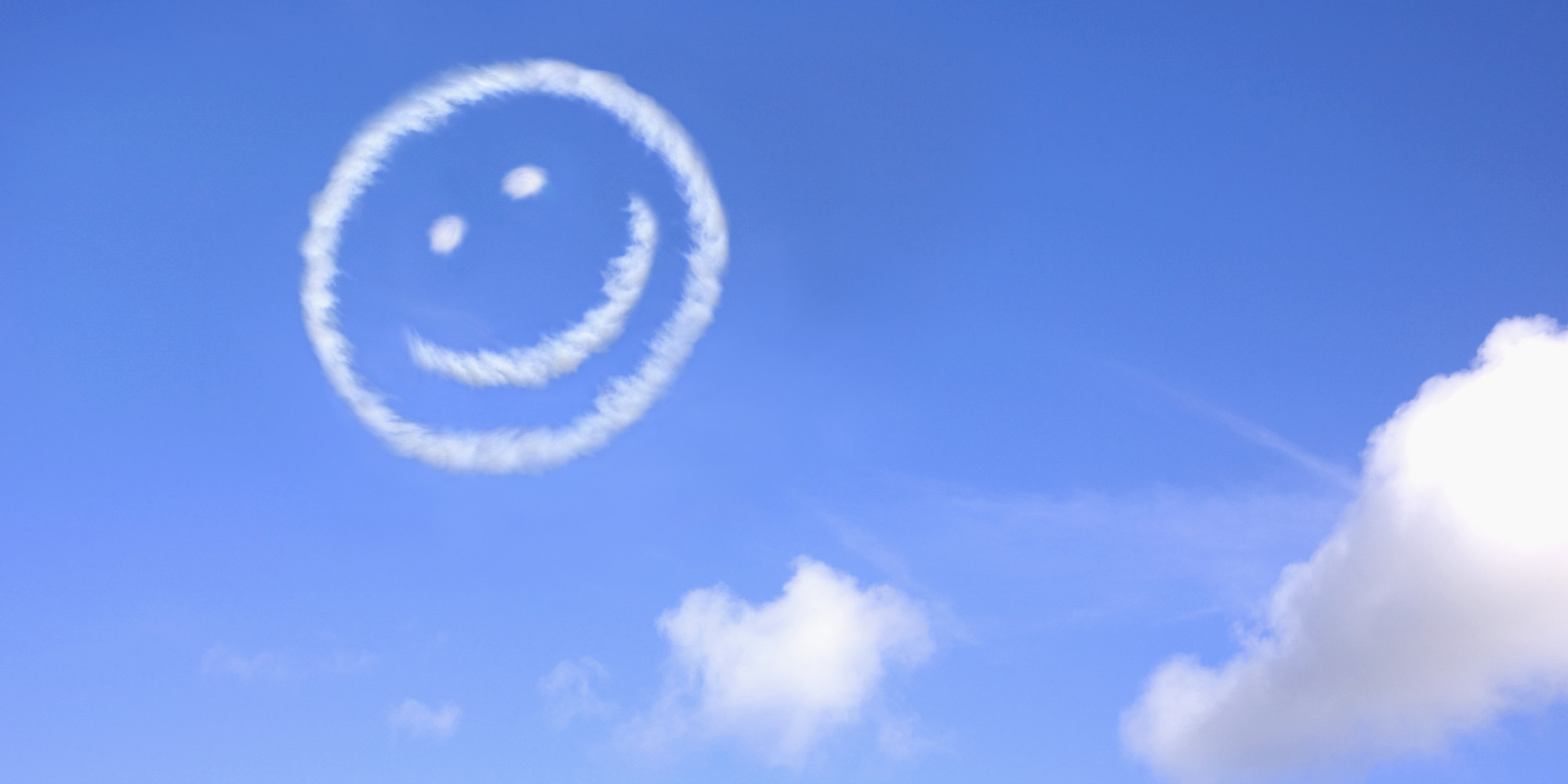 Third Day- 7:40 AM to 4:43 PM: SHAPING THE FUTURE - INDIVIDUALS & BUSINESSES (PERFORMANCE EXCELLENCE through INNOVATION & DESIGN THINKING)
In the third day morning session we start Shaping the Future Training Program Customized for the Participants by dealing with Advanced Innovation by Design Thinking Covering Principles of Design Thinking for Innovation in Business and work Systems as of the Requirement of the Delegates.






We cover, with research based content and case studies, the key characteristics of the human brain & its developments in synergic learning situations and interactions in today's workplace;
Participants will be able to identify and better understand the value system and preferences of human beings how the neurons are developing and increasing the neural paths to work more effectively and productively together, making maxium innovative achivement.




Design Thinking:

Use the concept of Design Thinking to solve problems. Design Thinking to be a Philosophy and mind set to the particapents. Simplify Medical Jobs to be done for patients and employees alike. Using design thinking.
The Process of Design Thinking
Observation - Insight - Ideas - Solutions

We will cover Innovation as a benefit of engagement which is neglected by other programs. You will experience how employee engagement fosters Innovation and how this helps people to achieve breakthrough results by increasing neural paths and creating new neurons through proper methods. We will realize creativity as a way of work and enjoy in being creative through numerous brain exercises to stretch, during the session.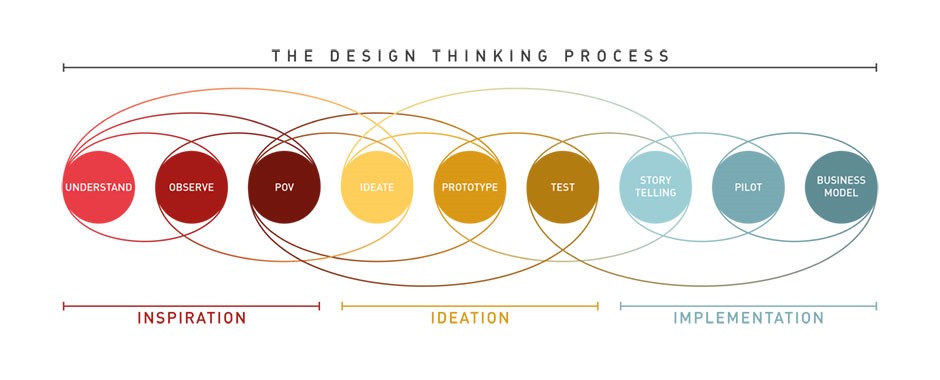 Almost Everything we encounter is "Designed"....... and so "we can design it better"
We then move smoothly to final stage and furmulate the developmental action plan for one year.
Heart & Mind Methodology: We Conclude DNA 2022 with an activity that summarizes the various 'insights' of Heart and Mind Methodology being experienced during these 3 days.
"Heart & Mind Learning can change lives!! It has changed mine. Thank you!"
MR. Ajosh N. Kannur, (working as travel consultant in Abudhbai )
You may want to give yourself time to explore the many exciting things that are available only in Abu Dhabi and Dubai; From Burj Khalifa, Burj Al Arab, The Palm Islands; Atlantis, Dubai Mall, Abu Dhabi Mall, Marina Mall, National Theater, Emirates Palace Hotel, Corniche, the Souk, Dubai Academic City, Dubai Media City, Dubai Knowledge Village, Mall of the Emirates, Ibn Batuta Mall, City Center, Abu Dhabi Falcon Hospital, Liwa, Baniyas, Jumeriah Beach, Sheikh Zayed Mosque, Abu Dhabi Capital Gate Tower, Jebal Hafeit, Al Ain Springs, and so many other places we can't even remember them all!!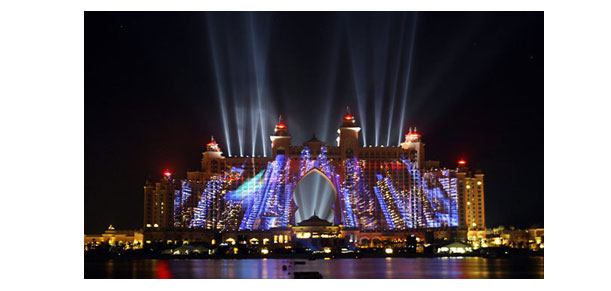 The exciting learning will take place both indoors and outdoors (weather permitting.)
The day's international Buffet Lunch of the hotel will be provided along with light breakfast at 7.30am and coffee break at 10.30 am& 3.20 pm (included in the package ) in the beach -view restaurant of the Al Reha hotel.
You can register below by Paypal System or :
CALL US; 00971 55 6672309, 0091 9035481512 00971 2 6322869,
www.dnaofexcellence.org
FAX; 00971 2 6321125, EMAIL US; info@dnaofexcellence.org,
dnaconsultanceys@gmail.com
info@dnaofexcellence.org, www.dnaofexcellence.net
Register Now for DNA 2022

In previous events we had to apologize to those who wanted to register after we filled the limited seats available. Register now to ensure your place. Your fee includes lunch , break fast,& tea break for the three days and your Participant Workbook and Certificate. It Does not include travel and accommodation expenses.
Attention.Register now for our May 27,28,29 @ Abu Dhabi, June 3,4,5 @ Dubai and June 19, 20 & 21 @ Cochin, event – Regular fee is AED.7,400, super early bird fee for the five workshop event,(save AED.1000) is dh. 6400, until May 15th, 2022. The second person to attend from the same organization gets 10% off. All charges are subjected to VAT
Register NOW online, below by paypal OR by entering into our site, www.dnaofexcellence.org, home page- down. You may pay with a Purchase Order, we will send, on getting your registration. Or by cheque payable to 'DNA management Consultancy, post box 113195, Abudhabi, UAE. Or Use the link below.Free Registration
Cancellation policy: Refund of amount paid (minus DH 200 processing fee) when cancelled 45 days or more prior to event, 50% refund 30 to 44 days notice, no refund for less than 30 days. If workshop is given again in the future, forfeited amount (minus 15%) may be applied toward future fees.)
Does Training Work? Can People Change? Here Is the Scientific Proof

When a manager uses an aggressive or negative communication style that alienates and demoralizes his staff, can training help him? Can he learn to change his style, even when communication is connected to such mental traits like thinking and attitude?
This question lies at the heart of training, as it invites the larger question of "Does training work?" How can we expect them to change by attending a training workshop at the age of thirty or fifty?
Until recently, the reigning theory was that neurons in the brain didn't regenerate. In her book, Train Your Mind, Change Your Brain" Wall Street Journal science columnist Sharon Begley documents experiments showing that new neurons are created in the brain every day, even in people in their 70s. The book provides a convincing account of recent discoveries in brain neuroplasticity. With these discoveries, we can more confidently say that training can be part of a difficult but not impossible change process available to the learner. Yes training does work and yes people can change. But change is not one day process nor does it happen at a moment notice. It is a long and difficult journey. (courtesy: humanext) But you cannot change what you don't know. So for people to truly start their change process, they must first understand their mind, their personality, and themselves. It's suggested that a training workshop on change at work covers the following points:
Introduction of the latest research on brain neuroplasticity (ability to be molded) and emotional intelligence concepts.
Exercises to help participants discover themselves using personality type / preferences tools.
Activities to help participants discover their genius, or core talents, skills, competencies, and life-calling.
Activities to help participants turn their discoveries and insights into behavior.
Finally, exploration of ways to apply the learning at work, using role-plays and simulations of daily work problems.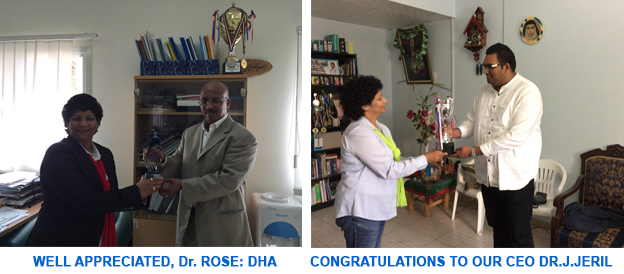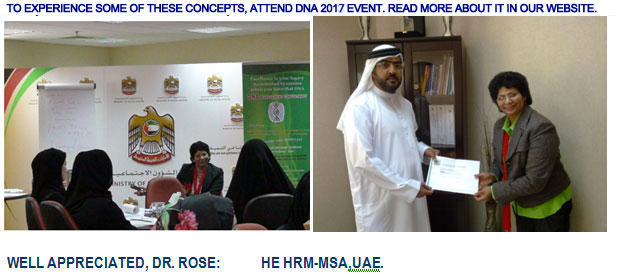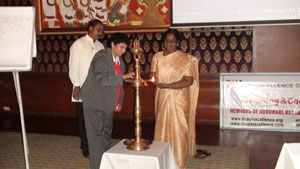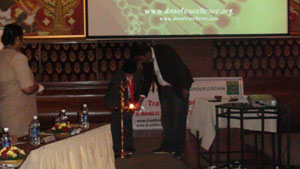 HON. D.C. (KTM) Mrs. Mini Antony IAS Inugurates, DNA2011@ZURI KUMARAKOM,